---
To purchase a T-Shirt:
1. Go to our Go Fund Me site at:  https://www.gofundme.com/take-back-the-night-philly-2018
2. Click on the red "Make A Donation" button.
3. Make a donation for $10 (or multiples of $10 depending on how many shirts you are ordering).
4. In  the "Add a comment" box and write your first name and last initial, the size and cut (traditional men's/women's) of the shirt(s) you want, and an email address where we can reach you.  Example: Amanda S, 2 women's medium, phillytbtn@gmail.com
5. You can also send us a confirmation email to make sure we get your order and info at: phillytbtn@gmail.com
Thanks for your support !!
FRONT OF SHIRT: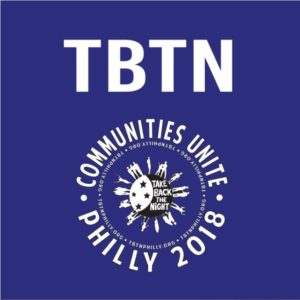 BACK OF SHIRT: