---
To purchase a T-Shirt:
1. Go to our Go Fund Me site at:  https://www.gofundme.com/2019-take-back-the-night-philly
2. Click on the red "Make A Donation" button.
3. Make a donation for $10 (or multiples of $10 depending on how many shirts you are ordering) $12 for XXL and larger sizes
4. In  the "Add a comment" box and write your first name and last initial and the size  of the shirt(s) you want, and an email address where we can reach you or you can pick up the day of the event.  Example: Amanda S, 2, medium, phillytbtn@gmail.com
5. You can also send us a confirmation email to make sure we get your order and info at: phillytbtn@gmail.com
Thanks for your support !!
FRONT OF SHIRT: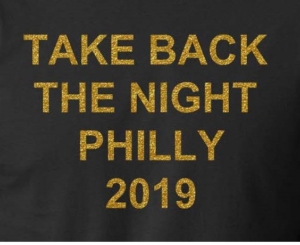 BACK OF SHIRT: